Description
Performance:
• Double conversion online design, 0ms exchange output, single input and single output voltage.
• With DSP digital control technology, Excellent performance index, the control system more stable and reliable.
• With active power factor correction technique (PFC), Input power factor close to 1, greatly reducing the pollution of the electricity grid.
• Ultra-wide input voltage range.
• Input frequency range of 40~70Hz, to ensure access to a variety of fuel generators can work.
• LCD + LED using real-time display, the user can intuitively understand the operating state of the UPS.
• Has turned self-diagnostic function, can detect hidden faults of UPS.
• With AC input over-voltage and under-voltage protection, output overload protection, short-circuit protection, temperature protection, battery under-voltage warning protection and battery overcharge protection, etc.
• Overall efficiency 94.5% reduction in power loss of UPS, saving the user's cost.
• When there is no utility power, it can directly use the battery to start working.
• When the utility power is restored, the UPS can automatically turn on and charge the battery at the same time to realize the unattended function.
• When the electricity is interrupted, UPS will discharge untill power off during battery mode.
• The standard RS232 communication interface enables multi-functional and multi-purpose monitoring and management operations between the UPS and
computer through a computer window, and an SNMP card (optional) can be installed to realize the UPS remote monitoring function.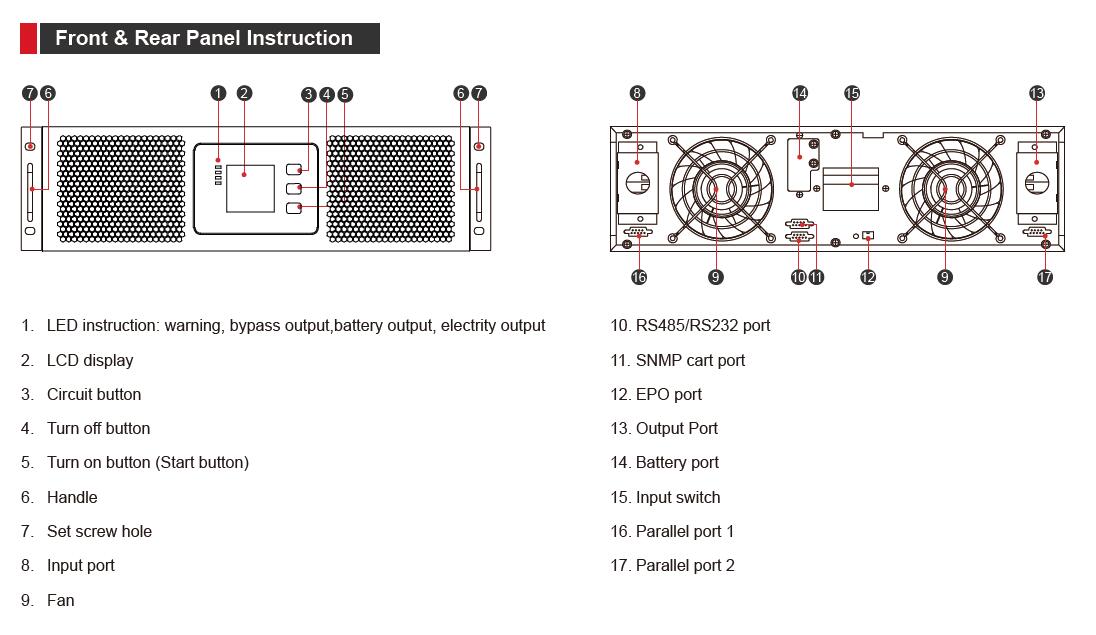 Specification:
Model
EH9335- 10KRS
EH9335- 15KRS
EH9335- 20KRS
EH9335- 30KRS
EH9335- 40KRS
RatedPower
10KAVA/9KW
15KVA/13.5KW
20KVA/18KW
30KVA/27KW
40KVA/32KW
Input
Input format
Three-phase four- line+ground
Rated input voltage
AC 380V/400V/415V
Voltage range
AC 208V~478V
Frequency range
45-55Hz at50Hz/54-66Hz at60Hz (Auto sensing)
Input power factor
≥0.99
Input current harmonic
≤3% (100% Nonlinear load)
Bypass range
Bypass protection voltage upper limit: 220V: +25% (Optional +10%, +15%, +25%)

230V: +20% (Optional+ 10%, +15%)

240V: +15% (Optional+10%)

Bypass protection voltage lower limit: -45% (Optional -20%-30%)
Bypass frequency protection range: ±10%
Output
Output
Three-phase four-line + ground
Output Voltage
AC 380V/400V/415V
Output power factor
0.8/0.9
Output range
±1%
Output frequency
Online Mode: following utility electricity frequency, battery mode: 50/60Hz±0.2%
Load peak ratio
3:1
Output harmonic distortion
≤ 2% Linear Load ≤ 5% Nonlinear Load
Battery
Battery Number
Optional: DC±192V/204V/216V/228V/240V (±16/17/18/19/20 pcs) Default: DC±192V
Charging Current
10A max
Protection
Overload Protection
Loading ≤ 110%, 60min; ≤ 125%, 10min; ≤ 150%, 1min; ≥ 150% change to bypass
Over temperature
Normal mode: change to bypass mode; Battery mode: stop output
Emergency shutdown (EPO)
Stop output
Other
Change-over time
Utility mode to bypass mode: 0ms (tracking); utility mode to battery mode: 0ms
Normal mode (Full load)
≥efficiency 94.5%
Communication Connection
RS232,RS485,SNMP (Optional)
ECO mode
support
Self-test function
support
Parallel function
Max 4pcs
Working environment
Working temperature
0~40℃
Storage Temperature
-25~55℃ (batteries: 0~40℃ )
Relative humidity
0%~95% (no condensation)
Altitude
< 1500m, when above 1500m, when above 1500m, derate according to GB/T 3859.2
Physical Characteristics
Size (D*W*H) (mm)
580*443*131
Net Weight (kg)
32
32.5
33
33.5
34